On behalf of our family at Jonesboro Family Pet Hospital, we are honored to pay respect to our beloved animal friends who have passed. We also welcome you to create a lasting tribute for your beloved pet or animal friend on our website's Pet Memorial page. Please feel free to complete the following Pet Memorial Form in Adobe Acrobat format, which requires the free Acrobat Reader to view.
---
In 2020 the Lee family had to say goodbye to their sweet girl of 15 years, Angel. The family had this artwork commissioned of her: "As depicted in the artwork she now has her wings and can be a true angel." We know she will be missed.
---
On February 8th, 2021 Rascal Bishop crossed over the rainbow bridge. "She loved to get in my lap and finish my grits I'd have for breakfast." We know she will be greatly missed.
---
On November 19, 2019 one of our employees had to say goodbye to one of their own. Wiggles was a 16 yr old miniature poodle who gave her family so much joy and life, all she wanted was to be with you. She will be forever missed by her family but they are grateful she is no longer sick and can run through the clouds.
---
On April 8th, 2018, the Jewell Family had to let Ellie Mae cross over the rainbow bridge. Her mom sent us a short story to read in memorial: "My son brought Ellie Mae home one of the coldest nights in 2002. She was supposed to be his dog but she became my dog. She was the best dog any one could ask for. She never tore anything up. She was a scared dog, didn't like to go anywhere, or loud noises. In 2007 she had to have kidney stone surgery. In 2009 she got very sick and found out she was a diabetic. She took 2 shots a day for almost 9 years. She looked forward to the shots, because she got a treat after the shot. She became blind and got arthritis and was having a lot of pain getting around. On Sunday 4-8-18 @ 3:33 am she was having a seizure or stroke. I had to make the decision to have her put to sleep. I love Ellie Mae so much and miss her every day." Farewell sweet girl, we know she will be greatly missed.
---
On March 29, 2017, the Jetton family said a teary farewell to their precious boy Dusty. Dusty wrote his own memorial letter to the family. You can read his own thoughts here. Farewell, sweet boy.
---
Brax McConnaughey was a much loved bulldog. She was 13 years old when she passed in 2016. Such a sweet personality!!! We miss you, Brax!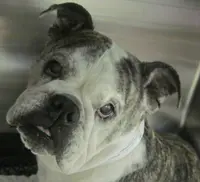 ---
Fiona Hill was a Princess to all who met her. She crossed the Rainbow Bridge after a brief battle with kidney failure in January 2015. Farewell Princess, we'll meet again!
---
Jill is owned by Sharon Moore. This little girl went through Chemotherapy for Mast Cell Tumor. We love you Jill!! October 2014
---
I have had dogs all my life. Anyway, I have lost all of them & it broke my heart. But my poor baby Jill never had a chance. She was about 7 years old & 5 or more of those were spent in a puppy mill. We drove 500 miles to get her in one day, then when we took her to the Doctor we found out some bad news. She had an enlarged heart. Just wanted her kept in everyone's memory. I now have 3 dogs & 2 cats in my house that are all rescues, & I love all of them, but they have got it so easy & little Jill never even came close to that, thanks to a puppy mill...She couldn't get away from it all..
Marie 2015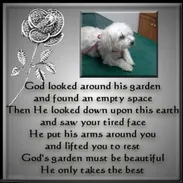 ---
Cailean Hill was a very distinguished Scottie who had been with us since he moved here from his California breeder dad as a young puppy. He passed away after a very brief illness in January 2014. Rest in peace, little man!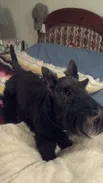 ---
In 2012, Rose was diagnosed with cancer. She fought it valiantly, and for awhile she was in remission. Sadly, we lost Rose in August 2013 while she was on a trip to New York. We will all miss her sweet personality.
---
Kit Kat Goodwin was with us until he passed in 2013. Farewell sweet Kit Kat!
---
PJ Harrelson was one of our diabetic patients who would scoot backwards into his mom's legs to get his insulin injection. He passed away in 2011.
---
"To the Doctors and Staff of the Jonesboro Family Pet Hospital,
Athena had come into our lives and had opened a whole new world to us. She won us over, as well as anyone who met her, with her beautiful personality and charm. She loved us as much as we loved her. She was more than just a pet or a dog, she was our daughter. She will never be forgotten and our love for her will go on. We were blessed to have her in our lives for just the brief live she had. Even though her life was short, it was full. We want to thank the Doctors and staff at Jonesboro Family Pet Hospital for everything they have done for her and for us.
With Loving Memories,
Jeff Cook and Travis Wilson" 2013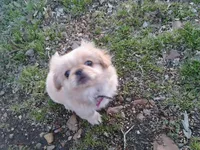 ---
Drs./Staff,
Thank you all for being so good to Chance & Barkley and for being so kind to me. Thank you also for all you've done since Barkley's demise: for the paw print, for the lock of hair, for the card, for the donation to the Christian Veterinary Mission, etc.
You are a great bunch & I appreciate you all."
-Janet McClearn 2011 & 2012
---
In memory of "Daisy" owned & loved by Millard and Susie Cover. 2010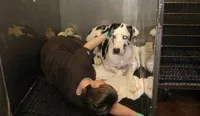 ---
In memory of "Harley" owned by Jason, Allison, and Drake Day. "I just wanted to thank you for everything you did for us when we lost Harley. The flowers you sent and the memorial you made in his memory was very nice and more than I ever expected. Harley just wasn't a dog or pet he was a member of our family that we miss. The day we bought him we brought him straight to your office and you all made us a part of your family. Harley loved his visits to your office. Once again thank you for everything." 2010
---